There are various types of complete dentures. A conventional full denture is made and placed in the patient's mouth after the remaining teeth are removed and tissues have healed which may take several months.
An immediate complete denture is inserted as soon as the remaining teeth are removed. Our dentist takes measurements and makes models of the patient's jaws during a preliminary visit. With immediate dentures, the denture wearer does not have to be without teeth during the healing period.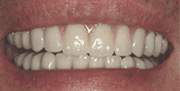 There's now a new wave of soft dentures, or flexible dentures, that promise to eliminate the problems associated with hard acrylic liners. They require no adhesives, will adjust to irregularities in your mouth, and stay in place even under harsh chewing conditions. The secret to these soft dentures is the undercut of the gum ridge. Flexible dentures hook into these undercuts to provide the stability needed to eat tough foods like apples and even hard nuts.
Partial dentures are often a solution when several teeth are missing. Removable partial dentures usually consist of replacement teeth attached to pink or gum-colored plastic bases, which are connected by metal framework. Removable partial dentures attach to your natural teeth with metal clasps or devices called precision attachments. Precision attachments are generally more esthetic than metal clasps and are nearly invisible.
Denture adhesives can provide additional retention for well-fitting dentures. Denture adhesives are not the solution for old, ill-fitting dentures. A poorly fitting denture, which causes constant irritation over a long period, may contribute to the development of sores. These dentures may need a reline or need to be replaced. If your dentures begin to feel loose, or cause pronounced discomfort, consult with our dentist immediately.
Having Problems with Your Dentures? We've got the solution!
See Mini-implant System