A fixed bridge is used to replace one or several teeth. The teeth on each end of the space is used to as anchors (abutments). Bridges are not removable by the patient. The restoration can be made from gold, alloys, porcelain or a combination of these materials and is bonded onto surrounding teeth for support.
Because they are custom-made, bridges are barely noticeable and can restore the natural contour of teeth as well as the proper bite relationship between upper and lower teeth.
There are several different types of dental bridges. Our dentist will recommend the most appropriate one for your mouth condition and the location of the missing tooth or teeth.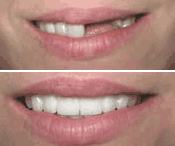 • Traditional bridge – a pontic tooth (or false tooth) is held together by two crowns. This trio is then attached (cemented) to the abutment teeth (the surrounding teeth of each side of the gap).
• Resin bonded bridge – this type of bridge involves the pontic (false) teeth being fused together to metal bands, bonded to the back of the abutment teeth with a resin cement. This type of procedure is common when the teeth missing are in the front of the mouth.
• Cantilever bridge – this type of procedure is most appropriate when there is only one abutment tooth on either side of the span.
The newest type of bridges is metal free Fibrekore Bridges.
Bridges reduce the risk of gum disease, limit the shifting of remaining teeth, help correct some bite problems and help improve speech.