A cut refers to a skin wound with separation of the connective tissue elements. Unlike an abrasion (a wound caused by friction or scraping), none of the skin is missing, the skin is just separated. A cut is typically thought of as a wound caused by a sharp object (such as a knife or a shard of glass).
The term laceration implies a torn or jagged wound. Lacerations tend to be caused by blunt trauma (such as a blow, fall, or collision). Cuts and lacerations are terms for the same condition.
When a laceration occurs, treatment may vary depending on the location, but generally includes:
• Examination of the area
• Cleaning of the wound with either an antiseptic solution or saline solution
• Closing the laceration with either silk or gut sutures
Although lacerations in the mouth tend to heal rapidly, the risk of infection is possible and in some cases antibiotics may be prescribed by the attending physician or dentist.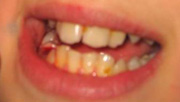 Any kind of cut to your face and the delicate soft tissues inside your mouth should be addressed immediately in order to prevent further tissue damage and infection.
If a traumatic injury involves a broken facial bone such as the jaw, nose, chin or cheek, maxillofacial surgery may be required.
With jaw surgery, rubber bands, tiny wires, metal braces, screws or plates are often used to keep a fractured jaw in place following surgery. This allows the bone to heal and stay in proper alignment. Dental splints or dentures may also be required to supplement the healing process following jaw surgery.