Dental X-ray examinations provide valuable information that your dentist could not collect otherwise. With the help of radiographs (the proper term for pictures taken with X-rays), you dentist can look at what is happening beneath the visible oral tissues. They pose a far smaller risk than many undetected and untreated dental problems. If you have questions about your dental X-ray exam, talk with your dentist.
The following types of dental X-rays are commonly used. The X-rays use small amounts of radiation. •Bitewing X-rays show the upper and lower back teeth and how the teeth touch each other in a single view. These X-rays are used to check for decay between the teeth and to show how well the upper and lower teeth line up. They also show bone loss when severe gum disease or a dental infection is present.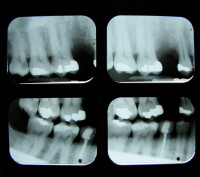 • Periapical X-rays show the entire tooth, from the exposed crown to the end of the root and the bones that support the tooth. These X-rays are used to find dental problems below the gum line or in the jaw, such as tumors, and bone changes linked to some diseases.
• Occlusal X-rays show the roof or floor of the mouth and are used to find extra teeth, teeth that have not yet broken through the gums, jaw a cleft in the roof of the mouth, abscesses, or growths. Occlusal X-rays may also be used to find a foreign object.
• Panoramic X-rays show a broad view of the jaws, teeth, nasal area, and temporomandibular (jaw) joints. These X-rays do not find cavities. These X-rays do show problems such as impacted teeth, bone abnormalities, cysts, solid growths (tumors), infections, and fractures.
• Digital X-ray is a new method being used in some dental offices. A small sensor unit sends pictures to a computer to be recorded and saved.
A full-mouth series of periapical X-rays are most often done during a person's first visit to the dentist.
Exposure to radiation is extremely brief and minimal. Safety precautions such as high-speed film minimize exposure time, and lead aprons prevent exposure to surrounding areas of the body such as the head, neck and upper chest.