Dental Implants provide additional support where teeth are missing without putting forces onto remaining natural teeth. Implants are synthetic structures that are placed in the area of the tooth normally occupied by the root. Implants are anchored to the jawbone or metal framework on the bone and act as a foundation for an artificial tooth or permanent bridge. In some cases, implants can be used to attach dentures.
They may be used to support the replacement of a single missing tooth or a complete functional set for individuals who have lost many or all of their teeth.

Visit All Dental Care and replace your missing teeth the same day with the new Immediate Load Implants.
Having Problems with Your Dentures? We've got the solution!
Visit All Dental Care in the morning, have the "Mini-Implant System" placed in less than two hours, then go out and enjoy your favorite lunch.
This is a one-stage procedure that invalves minimaly invasive surgery, no sutures, nor the typical month of healing.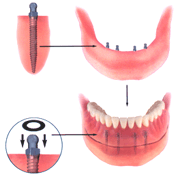 Placement of the implants is accomplished quickly and easily in a process performed in our office, with local anestesia or light sedation to help make you more comfortable.
Implants offer stability because they fuse to your bone. Integration of the implants into your jaw also helps your replacement teeth feel more natural and some people also find the secure fit more comfortable than conventional substitutes.

Candidates for dental implants need to have healthy gums and adequate bone to support the implant. A thorough evaluation by our dentist will help determine whether you are a good candidate for dental implants.